BERJAYA UC CONVOCATION 2021
General Information

Before Convocation

List of Graduands
Convocation ceremonies are meaningful, joyous and memorable occasions. The Management of BERJAYA University College hopes that you will give us your full cooperation to ensure the smooth running of this year's ceremony. We hope that these Convocation Procedures and Guidelines will be useful to you.
The BERJAYA University College Convocation Ceremony will be held on 16th January 2022 (Sunday) at Berjaya Times Square Hotel.
Congratulations to all our students who have successfully completed the prescribed programme of studies at BERJAYA University College.
Please be informed that due to the Covid-19 pandemic in Malaysia and in many other countries, our Ministry of Higher Education and the Government of Malaysia have advised the organisers of a large number of individuals to ensure the health and safety of participants/guests. Hence, the BERJAYA University College Convocation Ceremony is scheduled to be held on the 16th January 2022 (Sunday) at Berjaya Times Square Hotel, Kuala Lumpur, Malaysia, with strict adherence of the Government-gazetted SOPs.*
* Important:
Only fully vaccinated graduands and parents / guardians are allowed to enter to the function hall. Evidence from the MySejahtera app must be presented to the event organiser upon request.
7.45am
Graduands Registration & Gowning Up at Berjaya Times Square Hotel at Level 14
8.30am
Rehearsal Briefing for Graduands
9.30am
Arrival of Guests/ Parents at Berjaya Times Square Hotel at Level 14
10.30am
Ceremonial Procession – Negaraku
Opening of Convocation
Opening Address
Presentation Awards
Valedictorian Speech
Closing of Convocation
Negaraku – Ceremonial Recession
12.30pm
End of Ceremony
TRACER STUDY
(Mandatory to all graduands including those who are not joining the Convocation ceremony)
The Ministry of Higher Education is conducting a research on tracing IPTA/ IPTS graduates as an effort to maintain its quality of services and the higher education system in the country. Thus, it is COMPULSORY for the graduands to respond to this inline tracer study.
Upon completion of the online survey, graduands are required to print the confirmation of participation. The slip is required during the collection of Certificate.
The Certificate and transcript will be withheld if the graduands do not complete the online survey.
The online survey system will be available from 20th December 2021 (Monday) until 14th January 2022 (Friday).
Any queries regarding the Graduate Tracer Study should be referred to the Office of the Registrar.
Website:
http://graduate.mohe.gov.my/skpg1/
Graduate Login / Institution Detail:
Identification Card / Passport / Army Number :
               Malaysian            : NRIC number (e.g. 871021101234)
               Non-Malaysian    : Passport Number (e.g. XX871021)
Institution Name               : KOLEJ UNIVERSITI BERJAYA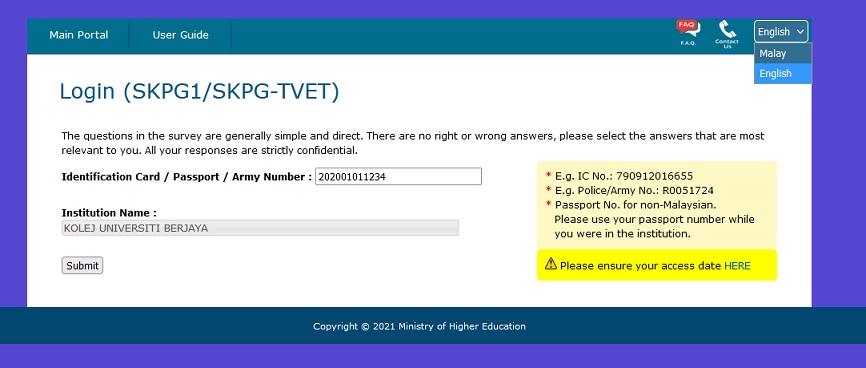 Note:

Please take note that all graduands and guests will need to scan MySejahtera QR code before entering the event hall.

Kindly make sure that your MySejahtera app is functional with adequate mobile data to allow a smooth flow of event.  
The convocation registration fee is RM420.00. It includes the following:
Complimentary invitation card for the Graduand's guest (one (1) or two (2) guests only)
Rental of graduation gown, hood and mortar board
One copy 8" x 10" size photo – Graduand receiving scroll
Stage photo & Group photo with soft copy or sent through email
Convocation Mini Souvenir
** Important:
Entry of the guests is on complimentary basis. The organiser has the right to cancel this complimentary invitation based on the latest situation of COVID-19 pandemic.
Please be informed that graduands are required to pay RM100.00 (refundable) as a deposit in order to collect your convocation gown. The deposit will be refunded to you upon the return of the gown, hood and mortar board.
Graduands who are able to join the convocation are required to fill up the online registration form with the evidence of the payment to be uploaded to the online registration form.
Graduands who are not able to join are not required to fill up the online registration form. Arrangement to collect or deliver the academic scrolls and transcripts could be done after the Convocation ceremony by sending email to registry@berjaya.edu.my.
Total payment of

RM520


(including RM100 deposit) MUST be paid not later than 10th January 2022 (Monday), 11:00am through one of the following methods:
Mode of payment: 
1. E-Payment can be made at https://www.berjaya.edu.my/university/e-payment
2. Payment through fund transfer as below:-
           Bank Name            : HSBC Bank 
          Account Name       : BERJAYA HIGHER EDUCATION SDN BHD
          Account Number   : 303 561674 101
          Swift Code              : HBMBMYKL
          Bank Address         : Wisma Genesis, No 33 Jalan Sultan Ismail 50250 Kuala Lumpur
No replacement cards will be given if the invitation cards are lost or misplaced on the convocation day. Guests are required to present the card to the ushers at the respective entrances before entering the hall.
Guests must be seated in the hall by 9:30am.

Alert
The Convocation online payment and registration is now CLOSED.
The full convocation attire for BERJAYA University College consists of the following:
      1. Gown
      2. Mortar Board (only for Bachelor's Degree and Master's Degree holders)
      3. Hood
Graduands who do not wear the complete convocation attire will not be allowed to enter the Hall.
Please be reminded that any alterations to the convocation attire are strictly prohibited.
Collection of Attire:
Due to the current Pandemic COVID-19 situation, all convocation attires will be sanitised. Distribution and collection of convocation attire will only take place on the event day itself. Graduands are advised to come early to register and collect the Convocation attire. The registration counter will be open from 7:45AM onwards at the venue itself ie. Level 14 Berjaya Times Square Hotel.
Returning of Attire  : To be returned immediately after the ceremony (16th January 2022) at Level 14 Berjaya Times Square Hotel.                                      
Time                          : Before 3.00pm                                                                                            
Penalty for late return of Convocation Attire
A penalty of RM50.00 per day will be charged if the graduate fails to return the Convocation Attire within the deadline.
For those who are interested to have your personal graduation photo or with your family members, we are pleased to inform that you may directly contact our official photographer
Company Name         : Starry Lovelace Studios
Contact person          : Susan Low
E-mail                          :  lovelace9906@gmail.com
Telephone                   : +6012-363 6788 / +6012-363 6789
Address                       : 20-1, Jalan 1/149D, Sri Petaling, 57000 Kuala Lumpur.
Certificates and academic transcripts are to be collected after returning your Convocation Attire. However certificates and academic transcripts will not be given to graduands who owe any outstanding fees to the BERJAYA University College. All graduands must also complete the MOHE online Tracer Study before 14th January 2022 (Friday).
The online convocation rehearsal and briefing is over. You may view the recorded session by clicking the following hyperlink:-
Mini rehearsal will take place 30 minutes before the event begin.
Car park facilities is available at the Berjaya Times Square. Flat rate of RM 9.50 for weekdays and RM 12.00 for weekends & public holidays via cashless payment i.e. Touch N Go or credit card pay wave only. (Parking charges are subject to change without prior notice)
Master of Business Administration
TEEBAN RAJ A/L SUPPIAH
SUA YIK LUM
PEE HUI TENG
CHAN YING PANG
JEFFERY JOHN MARTYN-DICKENS
PANG KAH WENG
POO KAM SOON
Bachelor in Accounting and Finance (Honours)
Bachelor of Business Management (Honours)
MOHAMMAD TWAFIQUL ISLAM
AISWARIYA VENKATESAN
WONG KAH YEE
SHARVINA MARYPUSHPAM A/P ROBERT
FONG MUN WAI
Bachelor of Retail Management (Honours)
KOK HOCK MING
MEOW SIN YIE
Diploma in Business Management
LOW SIEW TING
LEE KE XIN
REENAA A/P AMARAN
NISHANTHINI A/P THANAPALAN
Foundation in Commerce
(not required to attend the convocation ceremony)
PATALINGHUG MARIA CARA
GALVIN KAUR A/P AJEET SINGH
LEE JIE SHI
Bachelor of Culinary Arts Management (Honours)
ALYSSON ANN LOURDES
CHONG QI YANG
ERVINE TAN JUN HAO
GAJENDRAN A/L KRISHNASAMY
NURRUL NAZURAH BINTI SOFPIAN
TAN MOH XIAN
ALICIA BONG AI SZE
GLADDITCH JOSHUA
JANG SHEN HAN
LAU HWEI QI
SEE TIAN SHENG
CHAN RI XIAN
DHARSHINI A/P VEGIAYAN
FATHIMA IFAZA
FOO SIK XIEN
LEW JAN HEONG
LIM SHING NEE
NURAIN NABILA BINTI ABD RAUF
REINARD FULBERTUS
TAN LI XIN
YANG ZHI LYNN
YENTY YAPERLIN
YEONG WAI KIT
Diploma in Culinary Arts
ALDORA VELONIA
BRAAVEENA A/P SAMBANTHAMOORTHY
CASSIAN CHAN KWOK SI
CHEONG DHIEN WEI
DELFA MERCYLIA SWASTIKA
LOW YEU HERNG
MUHAMMAD IRFAN BIN KAMIL AZHAR
NG ERN KENN
SHAHRIAR NAGHSHBANDI
SPENCER WONG CHEE XIANG
WONG YAO SHENG
AJENDRA A/L GELANDES
AMNA SAYEED SIDDIQUI
ATHI KESVANI A/P UDAYAKUMAR
CHEE SHANG JIN
CHEONG PEI YUEN
CHEW HONG LIN
CHEW XING ZHONG
CHRISTOPHER CHONG TANG WAI
HO YONG JIE
IAN NG YOONG KWAN
JACK HON
KELVIN KEITH KIING
KER KANG ZHI
KOR ZI MING
LAW CHEE CHUN
LEANG CHANG YI
LEE JIE SHENG
LIEW ZHI YAN
LIM YI HENG
LOW JIA LIANG
MANLEE CHEAH
MERVIN JOHN
NURUL AQIDAH SYAURAH BINTI ISMANIZAM
ONG TUN LOONG
RAJESHWARRAN A/L KALAICHELVAN
SIAU JIA JUN
SIOW KA THONG
TANG LIAN WEE
TRIEU QUOC THANH
WONG WEI JIE
ADRIANA THAM BINTI ALVIN
ALBERT HOURYANSA
ALVIN LIM CHEE HIN
ANDREW HOW CHIA CHIEN
ANGELA TENG LING FEI
CHONG YIK XIANG
DANIEL BISMA NARENDRA
ERICA PRICILIA PELEALU
HEW YI YING
KELVIN MAMAHIT
LOW YI RONG
MARVIN ESTILLORE MARASIGAN
NIZARMAN BIN NGATIMIN
OWEN SOONG SZHEN YEN
PARVEEN RAJ A/L SUGUMARAN
PAVETHRAN A/L GANESH
PUTRI MARIAYANTI DATUMOLA
YAP JIA JUN
Diploma in Patisserie
HAU MIN HUEY
JASYLN TEY JIA LING
JOHANAN LIEW LIQ CHERNG
KAESHANA A/P VIKNESWARAN
NUR AIMI ATHIRAH BINTI NOOR AZLAN
NURUL HIDAYAH AZLI BINTI ABDULLAH
YONG CHENG MUN
ALFRED GOH JIA YU
CARYN TAY YEE THENG
FARRINA BINTI THAJUDEEN
IMAN SABRINA BINTI KHAIROL ANUAR
KOH TUAN XIN
RACHEL CH'NG SHIH YI
ABRIANNA MITRA A/P ANTHONY SANTHANAM
LEOW SHU TING
LIDYA PRANATA
SENG KAI LI
Diploma in Heritage Cuisine
Faculty of Hospitality and Tourism
School of Hospitality
Bachelor of Hospitality Management (Honours)
AMOS NGO QUO LUN
CHAN XIN YI
CHUA MEI JOO
EAN VIVIEN
FOO ZHAO LIANG
GABRIELLA JASMINE
GOAY CHAN CHIGH
HO YUNN YING
ISABELLA SEPHANIE
LOH CARMEN
MOHD ILYAS BIN MOHAMAD
PEH JIE WEN
RAFAEL MARCELLINO SURYADI
SURAJ VAIDEEASWARAN
TAN JIN HONG
TAN WAI PIN
THONG XIANG HOONG
ALOYSIOUS GOH SI YONG
ANN WAMAITHA GASHWE
BRIAN SANJAY A/L RAVICHANDRAN
CHAI SIEW LEUNG
CHEW MINGWEY
CHIN LI TZE
CHIN ZHENG AN
CHOONG HAU YIN
DESMOND WONG JIN HONG
DIONG WAN CHIN
FOONG TSE JIA
HENG CHUIN KANG
JARRED HANZ OOI
JOYCE HA YEN YEN
KHOO SEOW SHII
LAI KUM KUAN
LAU JAYEE
LEE JUN YEE
LEE WEI HAO
LIM CHAI ROU
NG JUN MIN
PHOON ZHEN WEI
TAN HUI SHAN
TEH SING SHEAN, RENDY
UMEKA KATO
YANG, XINYU
CHOONG HUEI XIAN JEREMY
CHRISTINE ONG KER SIN
HON KING SUNG
IVY TAN YUANKE
JESSLYN SEPLIYANTI
LEE XIAN LONG
LIM CHI WEN
LOO HOI MENG
LOW YU HENG
LOW YU YANG
MAH JING SYUEN
NORA LESITA
SEAH LIK SHENG
SOON SHU WEN IVON
WILSON FERNANDO
YEW YEN WEN
ZHU, TIANYU
Diploma in Hotel Management
ALVIN KWON TZE SHIANG
CHIN YU HONG
FENG, BOLONG
MILDRED LING YI WEI
MUHAMMAD ADRIAN SEE BIN ABDULLAH
MUHAMMAD AMIRUL SULAIMAN
RYAN CHAN HENN KHYUN
TAN GUAN HAO
ADAM AMIN BIN ABDUL JALIL SAID JUMA
BAY HUI LIN
BRENDA ANG ZI SHAN
BRIAN TAN CAR MENG
CHANG YI MUN
CHEAH XIAO WEN
CHEONG GUO CAI
CHONG JOEY
CHOONG HAU HON
LAI YU WEN
LAW JOE LIANG
LEE LI WEN
LIM BOON YAN
LOUIS KHO KIAN TENG
LOW MEOW KEI
MUHAMMAD ALI IMRAN BIN KHALID
NG HAO XUAN
PUI CHZE KAI
TAN KEAN HANG
TAY YU HANG
TEE YI FENG
THAM YUK JUN
VANESSA KOO EE-HUI
WONG WEI
YUEN YUN LOK
ADE AYU LESTARI
CHEE SING KANG
JOANNA JOTHI A/P SIVA KUMAR
LIM MAY CHYI
MOSES BONFACE ONYANCHA
NG ZHAO SIANG
PAULINE TAN HUEI CHII
TAN YI YI
WAN MUHAMMAD RAZIQ BIN ROHAIZAD
YAP BOON SEONG

School of Tourism
Bachelor of Events Management (Honours)
ALAN KOH EE HING
CARMEN YONG
LIEW SOOK YAN
TAN HAO MING
WANG, YIFEI
WINSON GOH HAU HANG
CRYSTAL CHUA CHOR HUAN
DEEBANN A/L SARAVANAN
LAI ZHAN JIUN
LIAN YUAN XIN
LIM HUI YIEN
LOI SEU HUI
MOO XUE YI
Diploma in Events Management
CHEONG BAO ER
LOH MENG LEE
YUEN SIU LOON
YVETTE MICHAELLA VICTOR
ANG SIAW CHING
CHAN YOKE YENG
CHONG YONG JIA
CHU JIN CHENG
CHUA PUI YAN
CHUA XIANG RONG
GENG, LUHUI
JEFFERY YEN KAH JUN
KHOO JUN LONG
LEE XIN YEE
LEONG CHI CHING
LIAW SHI KE
LIEW AI SIN
LIEW PUI YAN
LIEW XIN KAI
NOORFARHANAH BINTI MOHAMED IQBAL
WILSON LEE CHUN SERN
WONG KAH WEI
FARHANZA MARDEWA NURMANSYAH
JANET KOO JING YEE
PHOA JING XIN
SELVITASARI
Bachelor of Tourism Management (Honours)
CHIA HUI MIN
FONG KAR MAY
CHONG YEE WAH
LOH LI PIN
YONG KAI QIAN
WONG XINGNI
Diploma in Tourism and Travel Management
RASHMIKHA A/P NARENDRAN
CHIA YING SHAN
LIM YING HUAN
NG VI ANNE
YEO SAW CHENG KATHY
CHOO YONG TYNG
BERJAYA School of Communication and Media Arts
Foundation in Arts and Social Science (not required to attend the convocation ceremony)